Captain Michael S. Haskell, USMC
November 28, 1950 - October 23, 1983
KIA Marine Barracks, Beirut, Lebanon
Mike Haskell, who served at the Barracks from 1978-81, first as a Second Lieutenant, then as a First Lieutenant, and finally as a Captain just before he was transferred to the FMF. He was known as a "Marine's Marine," a recognized leader of men.

Previously, having served a highly succesful six year tour as an enlisted man, he left the Marine Corps to attend college, competed in varsity athletics, and graduated with high honors. While in college he was in the USMC's Platoon Leaders Class, and received his commission. His record throughout college as an athlete and scholar, as well as his demonstrated excellence as a Marine is proven by his extraordinary biography, which can be viewed

here

.

Those who served with him are uniform in their praise. One says, "[Mike] had a great sense of humor and was always impersonating the "Mr. Bill" character on Saturday Night Live. When the situation became intense, Mike always broke us up laughing with his "Mr. Bill." He continued, "I was in the field in Korea when, somehow and someway, General Monahan called me and told me of Mike's death. I was deeply saddened for Mike and his family. They were a fantastic family and I treasured their friendship."

Another says: "I [remember] him as the most hard-charging junior officer at 8th & I. His enthusiasm and can-do approach to every assignment was infectious. Like everyone who knew Mike, I was greatly saddened when he perished in Beirut."

Another says, "Mike and I had lockers together 80-81. There was/is no finer man or Marine. I think of him often."

Probably the most succinct statement of Mike's excellence was by another who served with him, "Mike's death was a real loss to The Corps and to the Country."




(We are thankful to Mike's widow, Christine Haskell Wells, for the photos which follow):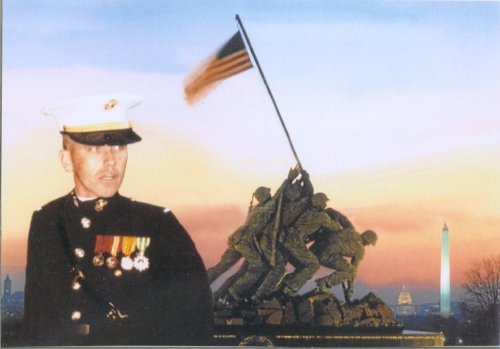 Mike at parade at Iwo War Memorial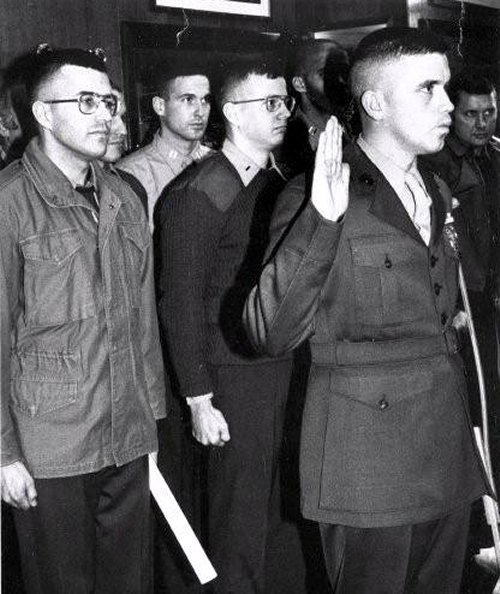 (left is unknown), John Allen, partial of Jim Williams, Mike, Captain Stutler in right background.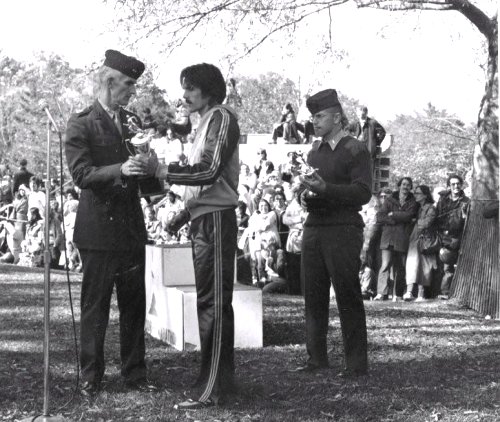 USMC Marathon (Mike is at the right), 1979.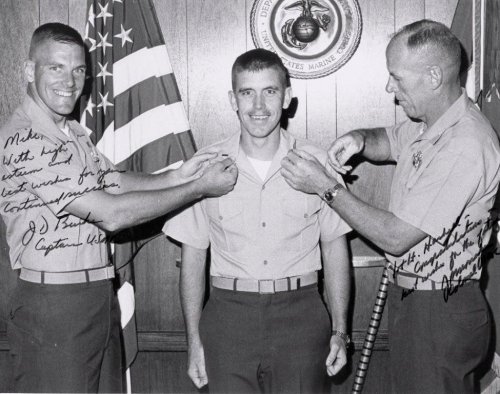 (L - R): Capt Jim Burke, Mike and and COL Phil Monahan, (Barracks CO),
on the occaision of Mike's promotion to 1st Lieutenant in 1977 at the CO's Office
(Note the Barracks Colors in background).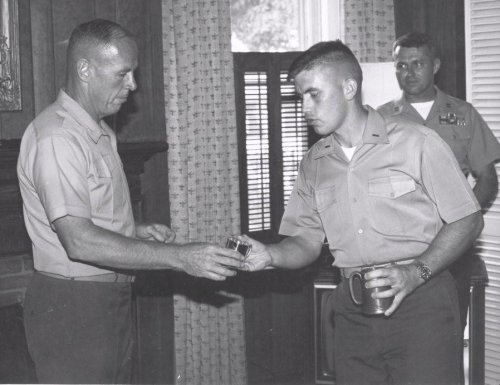 Col Monahan, Mike and Captain Bob Stutler (Barracks Adjutant)
as Mike receives a Baby Cup from the Officer's Mess at Center House
for the birth of Mike's daughter Melissa.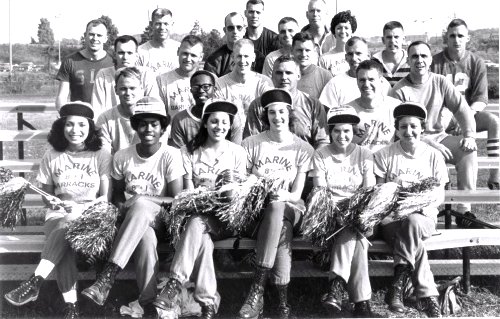 Post-game photo of the annual Barracks Oyster Bowl Officers football game
Top row; Maj John Admire, Capt Steve Kappes, Capt Jay Paxton, Capt Sue Flores Mike
and Capt Bob Dobson on Top. (Captain John Allen, just to Mike's left as you view the picture).
The next row down includes Capt Dave Titus, Major Terry Murray, Major Ray Ayres,
and Maj Skip Wells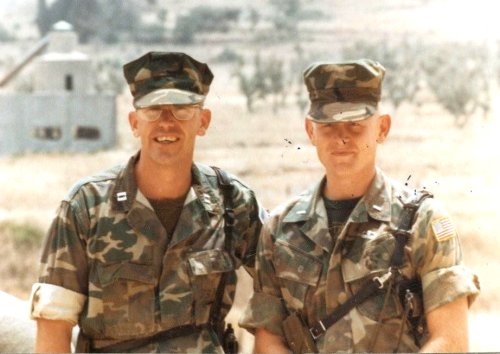 Mike with Scott Sommerhoff, Beirut July 1983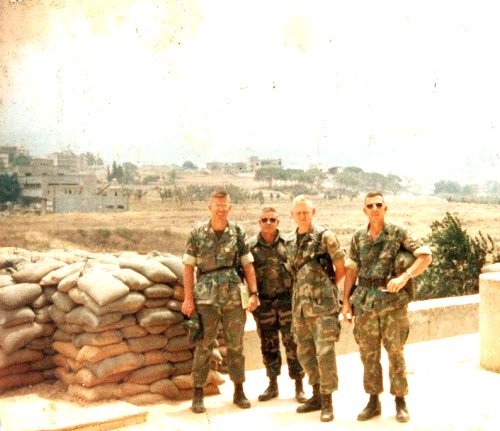 Mike, 1st Sgt Wells, Lt. Sommerhoff, Top Edwards, all KIA 10/23/83, in Beirut
[Editor's note: This is the final photo of Mike.
It was found in the rubble of the Beirut Barracks]
Note: An additional item devoted to Mike can be found on our KIA Tribute Page.