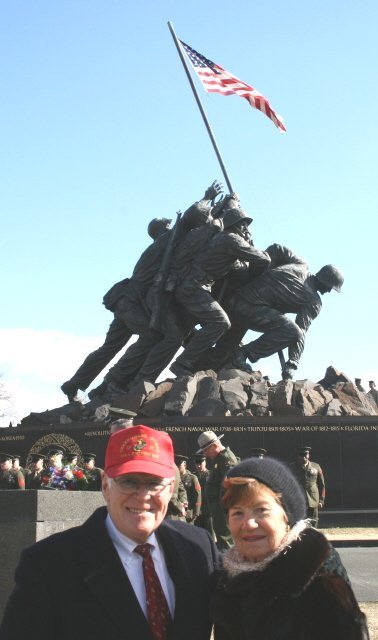 Dick and Pat Doyle at the Marine Corps War Memorial in Arlington, VA. on the 64th
anniversary of the raising of the flag on Mt. Suribachi, Iwo Jima.
(Submitted by Dick Doyle)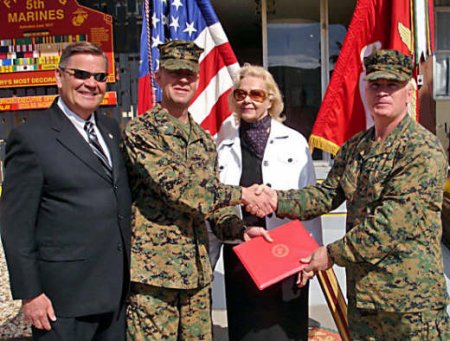 Russ and Marlene Curtis at the March, 2009 promotion of their son Joe to Lt.Col. at Camp Pendleton
Joe had just returned from his second tour in Iraq. His CO is on the right.
While there, the Battle Color Ceremony was performed, and an
excellent photo which appeared in the local paper can be viewed by
clicking here
.
Dave Melchior (1958-61), following a 2008 Silent Drill exhibition at
MCRD, San Diego. He is shown with rifle inspector Sgt Josh Leuthold.
(Submitted by Dave Melchoir)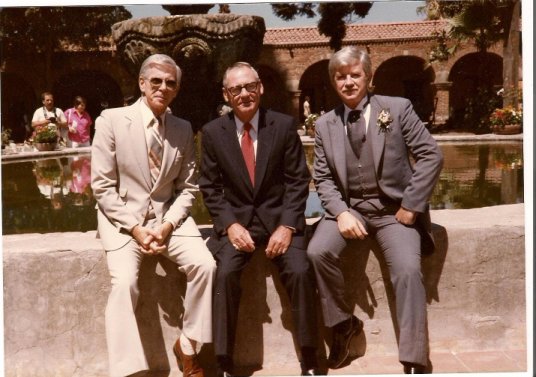 Picture taken at the San Juan Capistrano Chapel on the wedding day of Jim Donovan's daughter, Patricia
-- L-R-- Joe "Mustang" Larkin, 1955-59, Bill "Mustang" Keller (deceased), 1955-58, and Jim "Mustang" Donovan, 1957-59/1967-68.
(Submitted by Joe Larkin and Jim Donovan)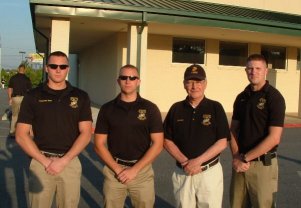 These two photos were taken on 17 April, 2010 in Kennesaw, GA where the Drill Team paraded that morning as part of the annual "Big Shanty" Festival held annually in Kennesaw. Then the SDP performed before 5,500 spectators at the Kennesaw Mountain HS that evening. Ralph Reimers is posing with the Drill Master and his staff.
(Submitted by Ralph Reimers)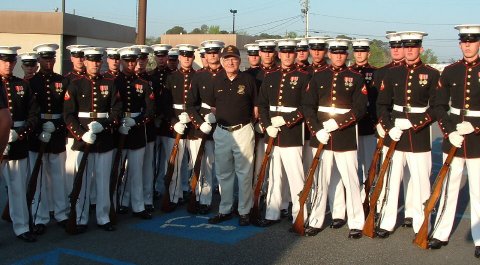 Ralph Reimers is posing with the Silent Drill Platoon.
(Submitted by Ralph Reimers)
Pictures from the Marine Corps Ball, 6 November 2010 attended by 8th & I Marine Herman Bigi, Esq., MCI Co., 1954-1956, Monongahela, PA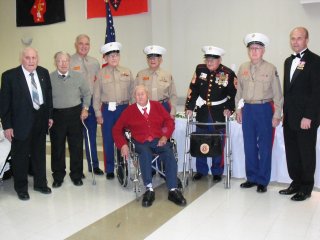 WWII vets honored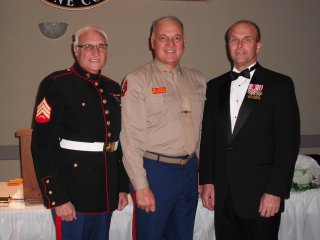 Herman Bigi first on left, Maj gen. Johnston (ret) on right.
These pictures were taken while honeymooning in San Francisco, CA. by 8th & I Marine JOE RUSZKOWSKI, 1956-1958, Philadelphia, PA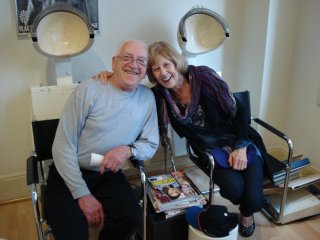 Joe "Party Animal" Maglione (1952-54) and Charmaine Ruszkowski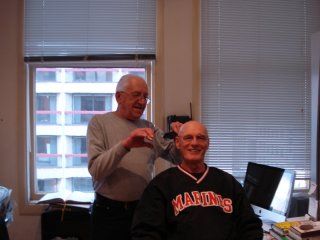 Joe Maglione trimming Joe Ruszkowski's (1956-58) hair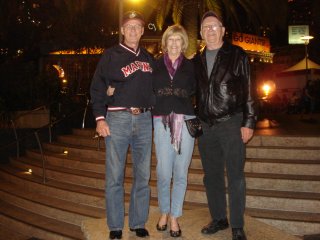 Joe & Charmaine Ruszkowski and Joe Maglione.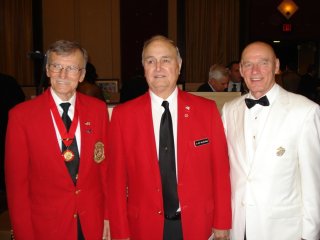 Three old Marines meet at the Marine Corps Law Enforcement Ball in Bally's, Atlantic City, NJ, June 11, 2011. L to R: Ike Rucker '49-'51, Mario Silvestrini '56-'60 / '62-'69 & Joe Ruszkowski '56-'58.
Submitted by Joe Ruszkowski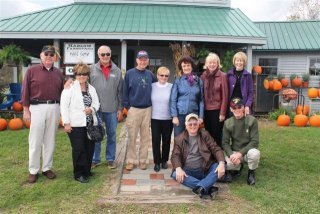 October 2011, 8th & I, Ceremonial Guard Company Marines of the mid-1950's, held a mini-reunion in Vermont. The picture includes:
L to R (Back Row)
Bill "Mac" McCarty, Esq., 1957-1960, Elma & Fred Kirven, 1956-1958, Bob & Karen Werner, 1956-1957
Maryann Sottile, Carlene McCarty, Charmaine Ruszkowski
L to R (Front Row)
Jim Sottile, 1956-1957, Joe Ruszkowski, 1956-1958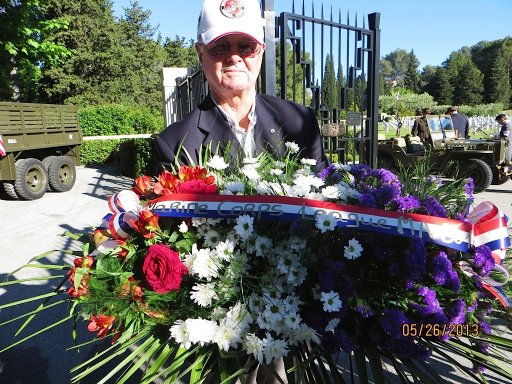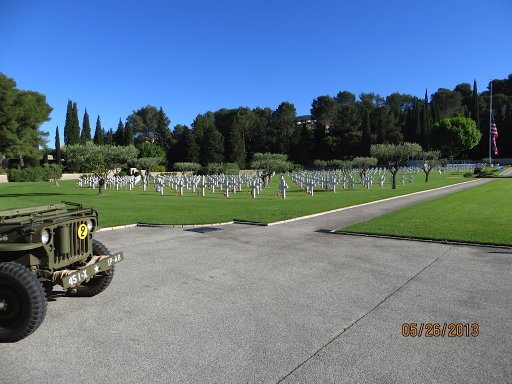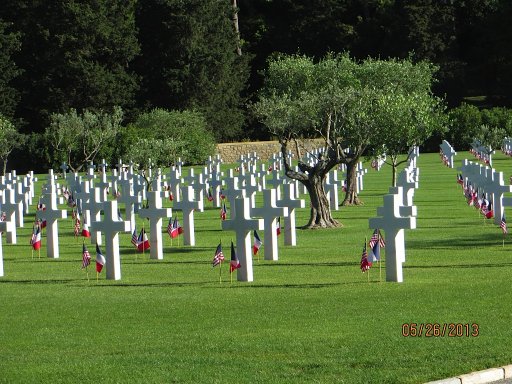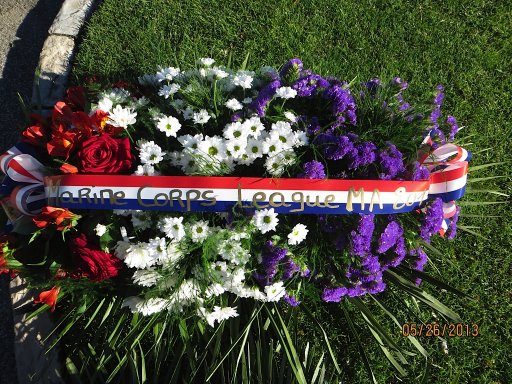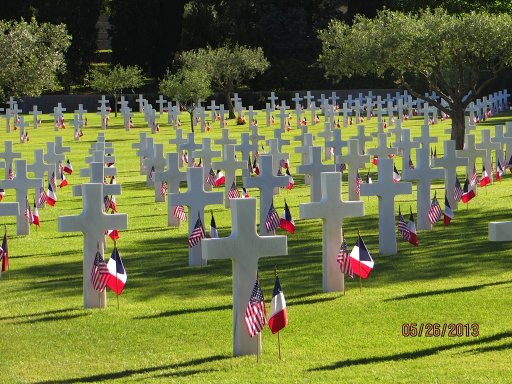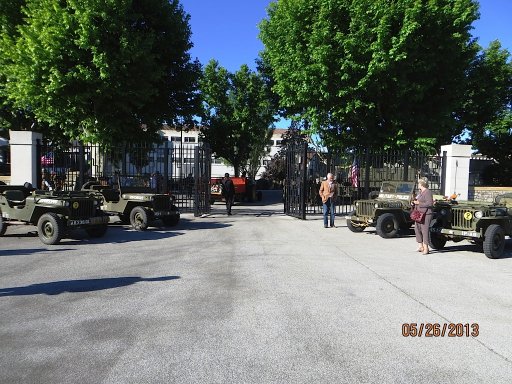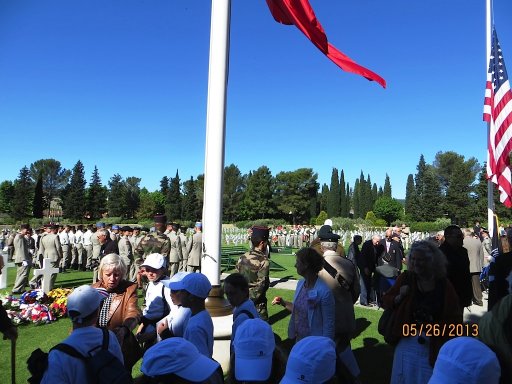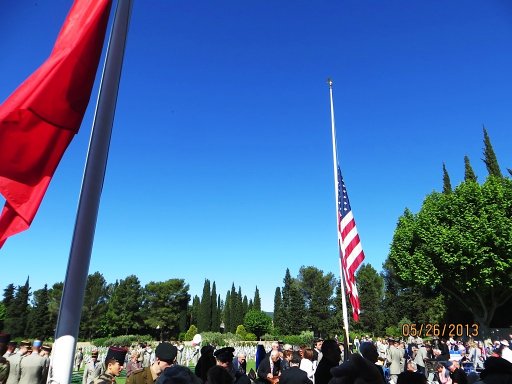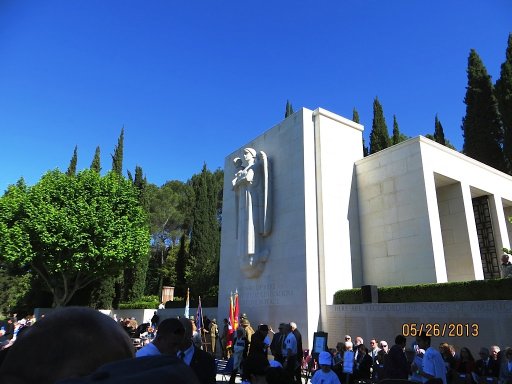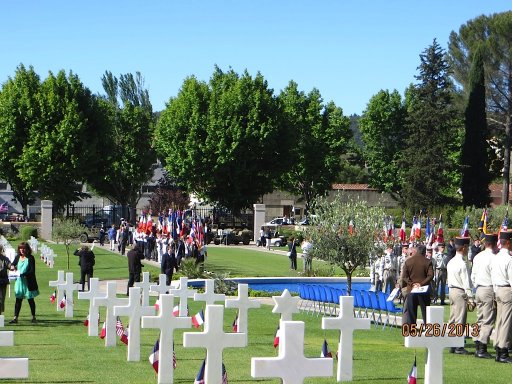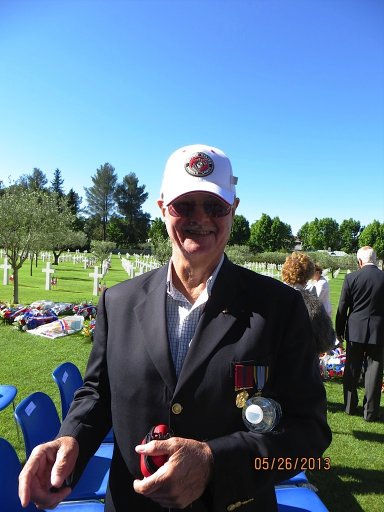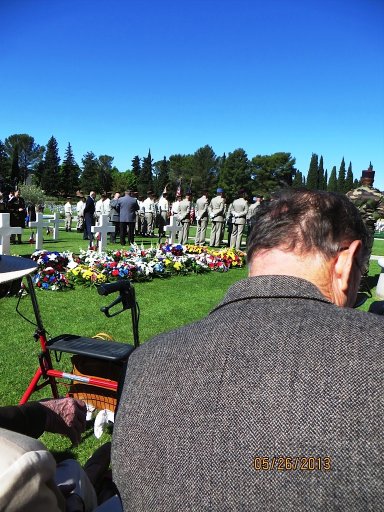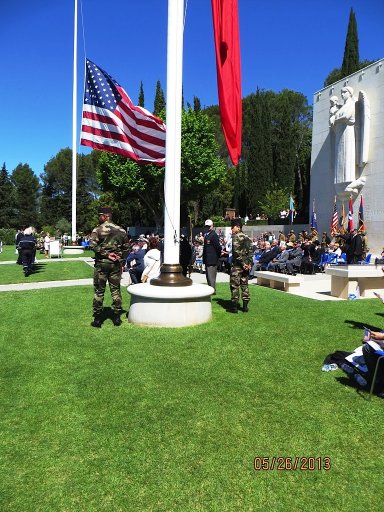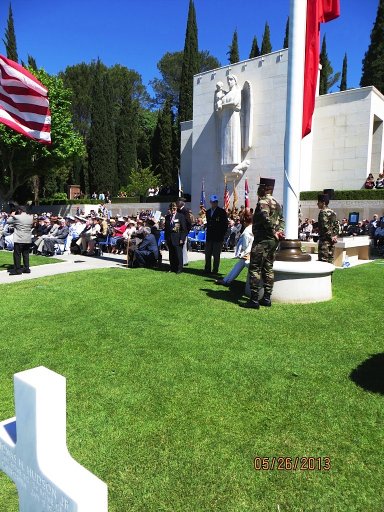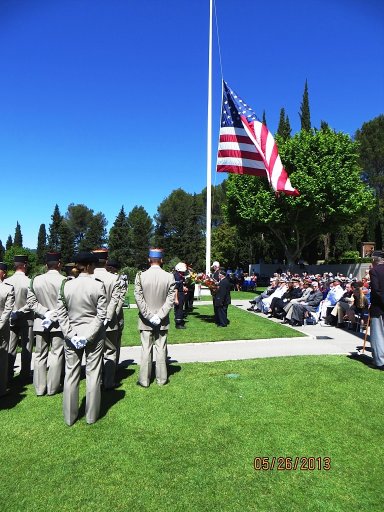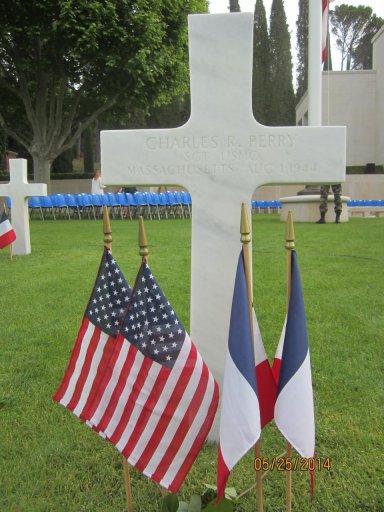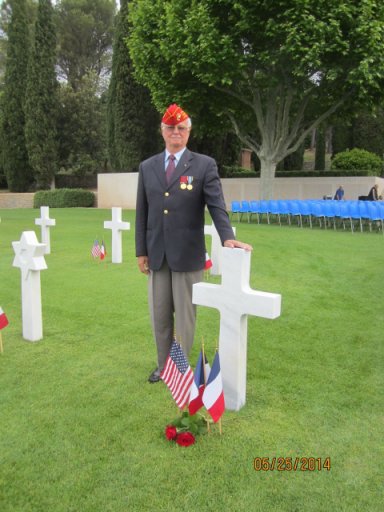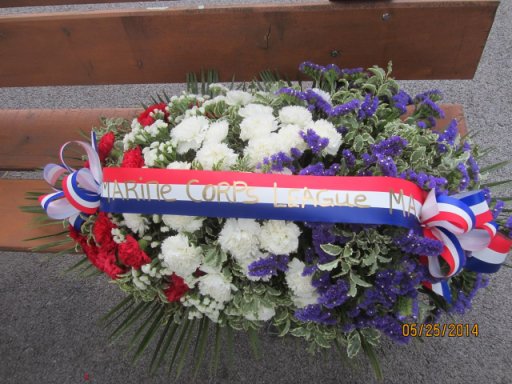 Vincent Sottile at Memorial Day ceremonies in France for the only Marine killed in France during WWII
5-28-14 .... Cindy and Loretta:
Thank you for the opportunity to meet with you both at the burial site of your uncle Charles R. Perry at The Rhone-American Cemetery in Draguignan, France last Sunday, May 25th.
The dedication that we made with our presentation of the Memorial floral wreath authorized by The Marine Corps League of Massachusetts was as follows: "Today we dedicate this wreath to all of the honored dead who lie here in repose at Draguignan, and in particular to that son of Massachusetts, SGT. Charles R. Perry, USMC who lies here also." I first discovered your uncle's burial site three years ago after my retirement here in the south of France during the first Memorial Day Ceremony that I attended at Draguignan. I was struck that here he was all alone the only Marine in the Cemetery.
Of course my old Marine Corps training kicked in because we never ever forget our wounded or dead, I made the decision to ask the Marine Corps League, of Massachusetts, for authorization to decorate his grave and honor his sacrifice by visiting his burial site as often as I can since I live only an hour away from the cemetery. The Commandant of Detachment 1094 in Sturbridge obtained that authorization and we have been laying a wreath , in SGT. Perry's memory for the last two years.
I want to assure you and your family that we will continue this tradition for as long as possible. By the way, SGT. Perry may very well be the only Marine from WWII buried in the European theatre. I am still researching that. Please find photographs above taken this past Sunday for your records.
Again, We the Marine Corps League of Massachusetts and detachment 1094 want you both to know that we look on this tradition as a privilege and an honor for recognition of your uncle's sacrifice and the fact that he was one of us A MARINE.
Semper Fidelis,
Vincent J. Sottile , 8th & I Marine, Ceremonial Guard Company, 1956-1957, Grasse, France
Marine Corps League, Massachusetts
Detachment 1094. Sturbridge MA
Submitted by 8th & I Marine Vincent Sottile, Ceremonial Guard Company, 1st Platoon/Drill Team, 1956-1957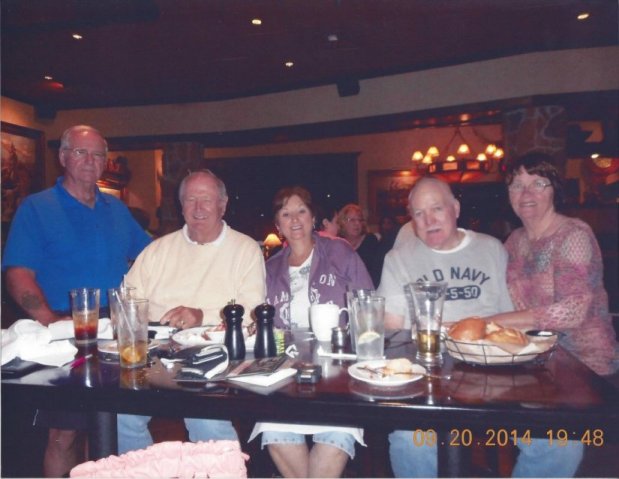 On 9-20-14, the following 8th & I Marines enjoyed a dinner at the Longhorn Steakhouse, Millville, NJ
L to R ... John Reim, Drill Team, 1958-61, Tom McHale, Body Bearers and H & S Co., Guard Sect., 1960-62,
Josephine Pullo, Dave Pullo, Drill Team, 1959-61, and Mary Lou Reim
8 November 2015, 8th & I Marine Joseph E. Storm, Age 82, Barracks Detachment, 1953-1956, Thorofare, NJ, passed away. 30 November 2015, Joe's cremains were interred at the Gloucester County Veterans' Cemetery, Williamstown, NJ ...
http://www.gloucestercountynj.gov/depts/v/vaffairs/vetmemcemetery.asp
, along with those of his wife, Elizabeth, and son, David (U.S. Air Force). The following pictures (7) were taken at the cemetery: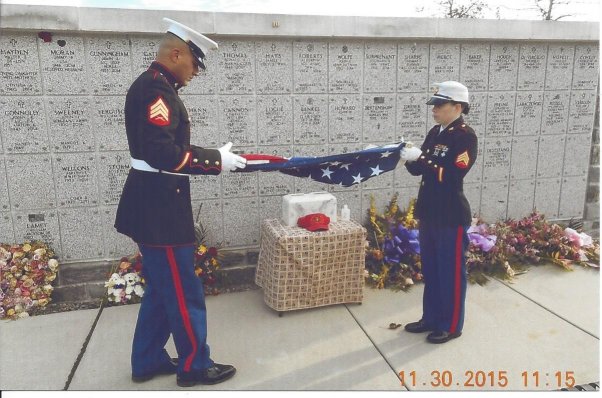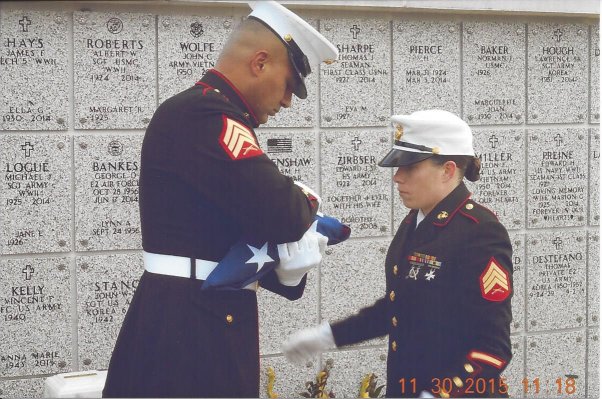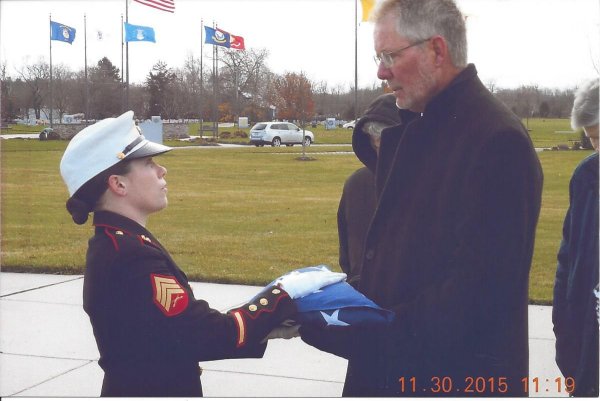 Joe Storm, Jr. receiving flag from Marine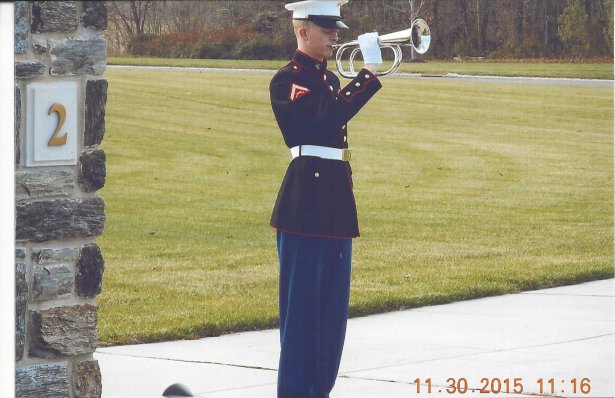 L to R: Sister Catherine J. McErlean, St. Rose of Lima Church, Joe Storm, Jr. and wife, Carmela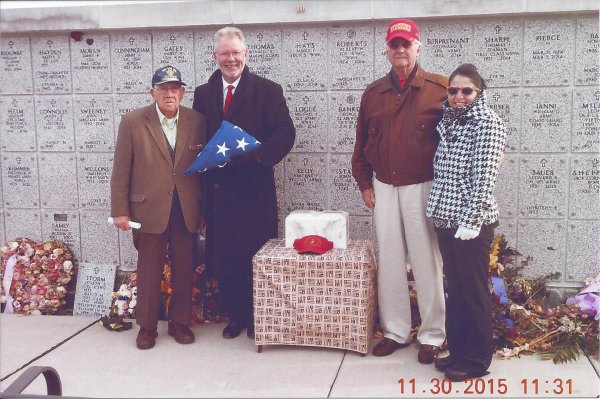 L to R: Frank LaTorre (WWll Army veteran), Joe Storm, Jr., John T. Reim, and Carmela Storm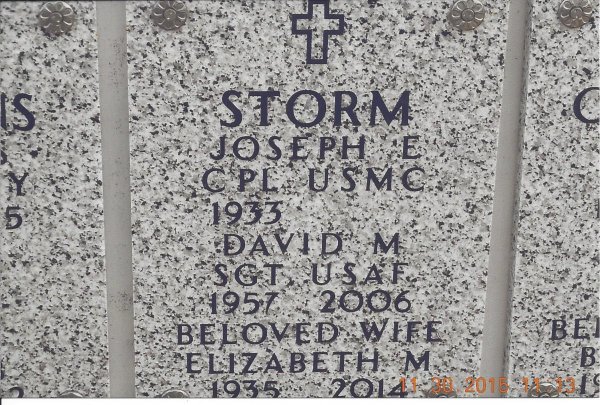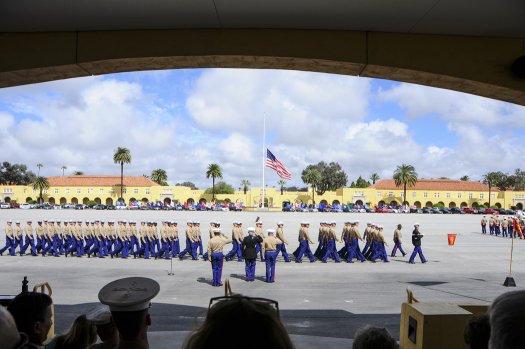 Pass in Review. Flag is at half staff in honor of Nancy Reagan's passing.
After the parade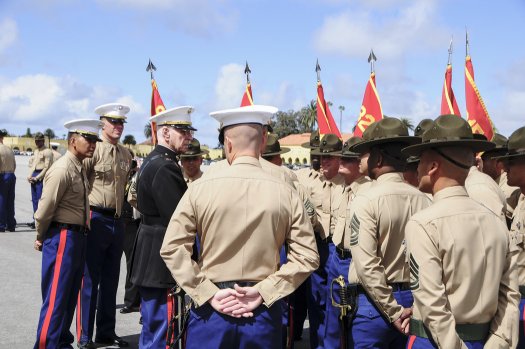 Meeting with DIs and CO officers after the parade and guidons were returned to the Drill Instructors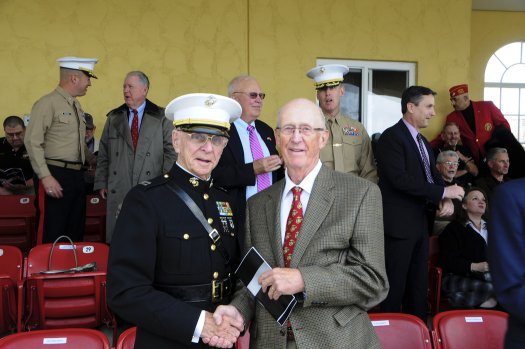 Joe and David. There were many MCRD Museum Docents present to honor Joe.
(photo courtesy of MSgt Joe Sturdivant, USMC retired and former DI. In fact the gentleman in the
overcoat conversing with the General is Col Guerin who was the Base Exec when Joe S served there)
MCRD Graduation Ceremonies, 11Mar2016, Reviewing Officer: 8th & I Marine Joe "Mustang" Larkin,
H & S Co. and Ceremonial Guard Co., 1955-1959 / USMC 1948-1971, San Diego, CA
For anyone not familiar, Joe served from 1948-1971. He retired as a Captain (meritoriously promoted to Lieutenant as a Gunny), having fought in Korea and Vietnam.
I was fortunate to have served with Joe at 8th & I Marine Barracks in the late 50s when he was a Platoon Sergeant. Joe still volunteers as a docent at the Museum at MCRD
and at The Flying Leatherneck Museum at MCAS Miramar.
Submitted by 8th & I Marine Dave Melchior, Ceremonial Guard Co., 2nd Plt. / Drill Team, 1958-1960, San Diego, CA
Memo:
TO: Commandant
Marine Corps league,
Massachusetts Detachment #1094
83 Pinedale Street
Southbridge MA 01550
FROM: Vincent Sottile
Detachment Member Detachment #1094
Grasse, France
SUBJECT: Burial Site Visitation Report
1. Be advised that today !0 November 2014, The 239th Birthday of The United States Marine Corps, at the direction and authorization of the Commandant of Massachusetts Detachment#1094 Marine Corps League, I took the privilege of, again, visiting the burial site our comrade in arms and fallen hero SGT. Charles R. Perry USMC who paid the ultimate sacrifice in 1944. SGT. Perry is the only Marine interred at The American Military cemetery at Draguinan, France and one of the three who are interred in Europe from WW2.
2. It may have been a rainy and stormy day today, but having the privilege, again, to visit Charles Perry's burial site and meditating upon the significance of his and other Marine's sacrifice during the last 239 years was inspiring. Meditating there helps to make sure that we will never forget. The visit left me with a warm feeling of brotherhood and pride. Also with a sense that it is our duty as Marines who survived, to NEVER forget our brothers in arms. I suppose you could imagine that "if the Army and the Navy" Looked on heavens scenes (today) they would see that the streets are (indeed) guarded by United States Marines" and that SGT. Charles Perry is pulling guard today. We all remember our training where we were taught not to leave anyone behind. That training also keeps us from forgetting and leaving behind the memory of our fallen brothers in arms . So! Remember! "Semper Fidelis means Always.
3. From the Marines in the rigging of sailing war ships during the Revolutionary war and Tripoli, to the Marines in "The Halls of Montezuma," to the Marines of the blockades and the first Marine Medal of Honor at the Battle of Drewry's Bluff during the civil war, to the Marines who served in the Philippines during the Spanish American War, to the Marines lost at to Chateau-Thierry, Soissons and Saint Mihiel in WW1, to the Marines sacrificed at Guadalcanal and IWO JIMA during WW2, To Korea and the Marines at Chosin Reservoir, To the Marines that secured Beruit Lebanon in 1958, to the Marines achieving the impossible in Vietnam, the Gulf War, Bosnia, Afghanistan, Iraq and elsewhere, WE MUST NEVER FORGET. We celebrate a birthday today with honor and pride earned through the sacrifice of Charles Perry and those Marines like him.
4. I conducted a ceremony at SGT. Perry's burial site by first playing the National Anthem, The Marine Corps Hymm (from my computer tablet) Hymnand mediating a moment of silence and ending with a hand salute and a happy birthday. It took only 20 minutes, but was the best 20 minutes that I have spent in a while. I recommend a visit to a American Military cemetery for its fulfilling and inspiring poetic moments.
5. To The Perry family..... Thank you for the privilege of honoring your family member and his service. and as long as we can we will be visiting SGT. Perry three times a year. Below, you will find pictures of Charles burial site and the "Pot of Roses left there in his memory.
Proudly submitted;
(Former)8th and I Marine Corporal Vincent Sottile USMC
Marine Corps League, Massachusetts Detachment #1094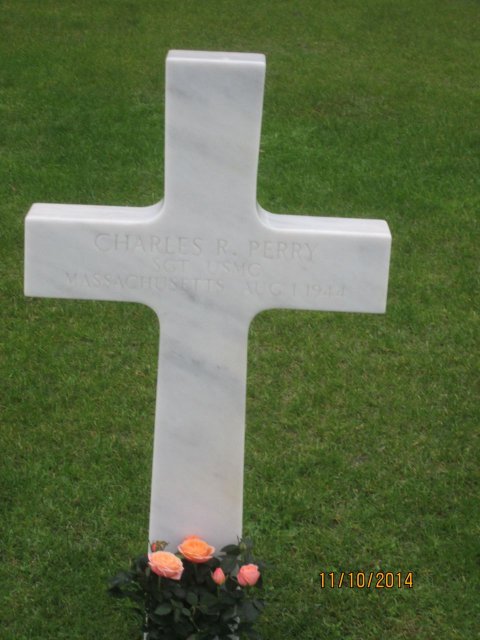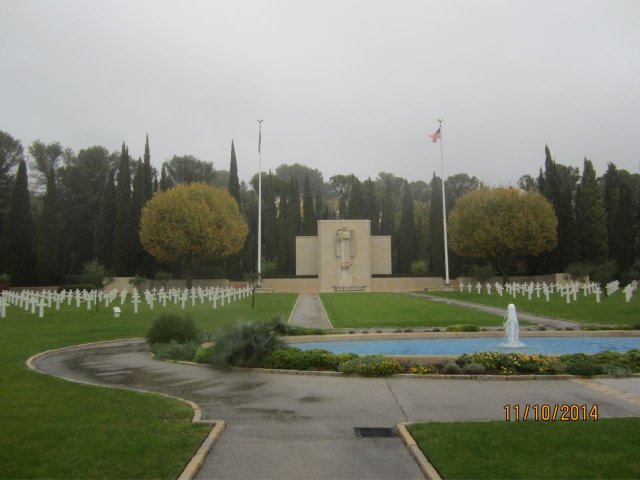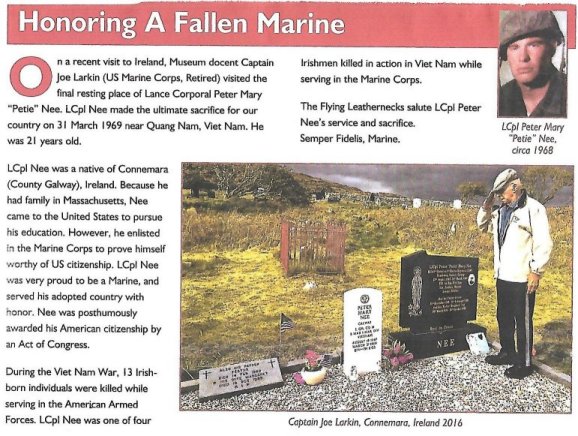 JOE LARKIN'S VISTS TO THE GRAVE OF L/CPL PETER MARY "PETIE" NEE, USMC, K.I.A., VIETNAM, 31 MARCH 1969 AND BURIED IN IRELAND
8-3-16 ...
Four years ago, when Lil and I were visiting a friend in Galway, he showed me an old newspaper clipping of the burial of a U S Marine in Connamera, a very desolate part of the N W of the Republic of Ireland. We had to find him. With the help of an Irish couple we located the cemetery on a hilltop over looking the dark Atlantic Ocean, after making our way thru several pastures of "guard dog" sheep we finally found the grave. Some of the inscriptions on the fallen over tomb stones were readable and went back to the 13th century. We finally found the grave and his Marines from his platoon had been there several years earlier and thru Marine donations they had a beautiful proper tomb stone erected with all of his pertinent data ( see attachment). His Dad and Mother are now buried along side him.
This was before I had my personal challenge coins. I left a museum coin. an American and USMC flag and on subsequent visits we left similar items. Each year we always found the previous items gone. What we didn't know was that his family, on visiting him, removed them to a place of honor in their home, not knowing who left them!! Last year I left my challenge coin and they found out who was visiting L/Cpl.Peter Nee. They sent my name and rank to one of the men from his platoon, a lawyer, and he found me here in San Diego. I have since been in touch with the men in his squad that were with him when a mine took his life. He had been wounded prior to that and was awarded the Bronze Star for heroism. He had only been back with his squad a short time, when he died. On my recent visit to Ireland I was unable to visit the family. I have talked with and e mailed them and exchanged pictures and will visit on my next trip.
I receive an e mail from the Guinness brewery in Dublin. each year, advising me that the level of Guinness is rising there and to get my but over to alleviate the drastic situation. I make this a yearly trek. My visit to the family will be included in my next trip. Several Marines from this area are helping me to locate an Irish Marine that was KIA and received the Navy Cross. He is buried somewhere near Cork in the south of Ireland. I will find and honor him as best that I can!
Semper Fidelis, 8th & I Marine Joe "Mustang" Larkin, H & S Co. and Ceremonial Guard Co., 1955-59 / USMC 1948-71, Korea & Vietnam veteran, San Diego, CA
11-14-16 ... DENNY HARRIS' MEMORIES OF 8TH & I IN THE LATE-1950'S
Like Sir Arthur Helps said in 1868....."nothing succeeds like success". The present system has been in place for the last 57 years and it works extremely well!. But I think back to the 50"s when the four Platoon system was in place and each Platoon did everything. A typical week with a Platoon in the summer of 1957 might include several burial details, A performance at the Iwo-Jima monument on Tuesday afternoon, perhaps a drill team performance at the Friday evening Parade (which we started in 1957), a two day trip to Cherry Point for a change of command ceremony. a half time performance at the Navy - Notre Dame football game on Saturday, an arrival ceremony at Andrews for the King of the Universe and his family, and at the end of the week a four week "cruise" aboard the U. S, Ranger for a good will mission to South America (2nd Platoon in 1958) or a 10 day trip to Edinburgh, Scotland for a Military Tattoo in the summer of 1957 (4th Platoon), Perhaps a television performance in 1956 (2nd Platoon) and at the end of all this a two week stint at Camp David (each Platoon spent two weeks of every eight at Camp David) for some field training, Drill Team practice and great liberty in the swinging town of Thurmont, Maryland.......
Today the Body bearers carry caskets and fold flags all day every day, the Drill Team practices their routine all day every day..... As a result these performances have almost become robotic in appearance. When is the last time a cap was knocked off during a Friday night performance and then smashed back on by the Platoon Sergeant (always with a chuckle from the stands), or a a Drill Team member hit in the back of the neck with a bayonet mounted on an 03 rifle by the marcher behind him (Bob Moroni in Scotland - 1957) and he was standing tall the next day after a few stitches. The Edinburgh paper the next day said "now we know why they call them leathernecks".
In this day of specialization, all works well at 8th and I, but for the pure pleasure of being a member of the most elite ceremonial unit in the world, being a member of one of the four Platoons in the late 50's was an experience beyond compare. We experienced everything that 8th and I offers (Body bearer, the flag folding ritual, performed as a Drill Team member both at the Iwo monument and the Friday evening parade, oversea travels, Division re-unions, arrivals and departures at Andrews, and actually guarding the President at Camp David......absolute everything. What a wonderful experience!
Submitted by Denny Harris, 8th & I, Ceremonial Guard Company, 1957-1958 / Col., U.S. Army Reserves (retired in 1997), Lexington, KY
11-25-16 .... Ralph Reimers' 8th & I Memories Of The Late-1950's A follow up to Denny Harris' reflections of the Drill Teams of 1956,57 and 58 I have a "General' story to tell. On Christmas eve 1956, I pulled Main Gate guard duty. It was a cold night and I sheltered out of the wind in the small enclosure of the guard post. Around 2200, I caught a glimpse of a solitary figure coming from center walk in civvies in a heavy overcoat. It was Deputy Commandant for Aviation (DCA) Christian Schutt. I stepped outside, stood at attention and when the General approached me, I snapped him a loud heels clicking* salute. He said "cold night to stand duty Marine" to which I responded, "yes sir!"
I watched him for a half minute as he turned to the right out the gate and proceeded up 8th street. Not more than 10 minutes later, he came thru the Gate, received the same salute and stopped in front of me. He had a cup in his left hand, extended it to me and said "Merry Christmas, Marine" and after you finish that, destroy the evidence". "Aye, aye Sir"
He had handed me Coca Cola laced with Rum which I drank very slowly relishing every sip. I will never forget the gesture, the humanity of it... *- To those who never wore dress shoes clad with metal taps and heels, you never experienced the resounding "bang" when the heels were sharply brought together.
Submitted by Ralph E. Reimers, 8th & I, SDT 1956-57 / Marine Barracks 1956-59, Marietta, GA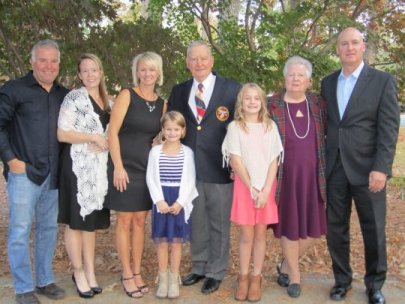 Photo: My 50th Wedding Anniversary on 12 November 2016\
Great story, Ralph Reimers! When I reported into 8th and eye on a rainy cold day in late January or early February of 1957 and walked through that main gate and handed the orders for the group to a PFC on duty at the main gate I was shocked....a Marine about six feet tall with no more than a 28 inch waist, double soled spit shined shoes, cleats everywhere, a duck-billed gord/lid (hat to you new guys) with a spit shined bill that you could see yourself in and this was before the patent leather crap! At this time a car was leaving (at that time the officers parked inside the compound) and it sounded like rifle shots coming from the Marines feet. Those double soled shoes with beveled heels and the horseshoe cleats could flat out do it!
The next morning I met my Squad Leader (my Squad Leader was none other than Ralph Reimers the author of this missive) and he looked just like the Marine on the Main Gate! For 2 - 3 weeks we were restricted and did nothing but shine shoes and cap bills (at this time we used Mennen after shave instead of "spit" on our shoes and I must have used two bottles in those two weeks), we removed QM from our brass buttons, tailor our uniforms, get our low quarters (shoes) squared away, heels beveled, spend hours getting our lid bills shaped just right. After many, many days of this, I passed my Squad Leaders Inspection (Ralph), put on civvies and headed out the main gate, stumbled onto a little bar called Guys, went in and got my first D.C. buzz on!
At our ages (79 years), what would life be like without all our memories!
Submitted by Denny Harris, 8th & I, Ceremonial Guard Company, 1957-1958 / Col., U.S. Army Reserves (retired in 1997), Lexington, KY
11-24-16 ... KEN LIBBY'S MEMORIES OF 8TH & I IN THE LATE 1950'S
Denny Harris. Thanks for the Memories. I was at 8th & Eye from Jan 58 to late Nov 60. I agree, doing it all kept you sharp, made the trip more enjoyable and who can forget the Ferris Wheel in Lima, Peru?
Six of us met six girls in the hotel restaurant and they invited us to a local fair about 5 blocks from the hotel. We all went and got on the Ferris Wheel with the girls. The locals didn't like that and started throwing stones. The ride operator got a taxi lined up, a 48 Ford 4 door and as a seat would get to the bottom we would jump off and run to the taxi. All 12 of us got into this car, he took us to the hotel and we gave him some money to take the girls home. Decided to stay in the hotel the rest of the night.
I got to fly that bird also and when the pilot told me to take it down 3000 feet I pushed too hard on the stick, he straighten things out quickly and provide proper instructions.
Submitted by Ken Libby, 8th & I, Ceremonial Guard Company, 1958-1960, Stowe, VT
11-25-16 ... DAVE MELCHIOR'S MEMORIES OF 8TH & I IN THE LATE-1950'S
Hi John Reim, Denny Harris, and Ken Libby,
I don't remember a ferris wheel in Lima, but I do remember being restricted to a one block area from the hotel they put us up in. We had traveled by bus from Valparaiso via Santiago and then flown there in a goony bird (DC-3). We were told to lay low because it was a national holiday and Peru was 40% communist. Nugent and I ended up in a bar maybe a block and a half way. We really had no idea where we were but the place was crowded with men, and dressed in greens, the patronage kept setting us up with what looked like tiny glasses of wine. Eventually we figured that they thought we were Russians and began scheming on how to get out of there. As I remember Nugent hit one big fat guy who was the most obnoxious and we bolted. We had no idea where we were and half gassed didn't know which way to run. Of course we knew that we were close to being in a real world of trouble. All of a sudden a teenage kid appeared and asked if we needed to get to the particular hotel where the unit was staying? After a quick affirmative he led us into an alley and after a couple of turns there were the lights of the hotel. Whew! Ferris Wheel? Who got to fly the goony bird was another story. It was a two and a half day jaunt beginning in Santiago (bused from Valparaiso) with a leg to Lima and another to Panama and then on to Jacksonville for customs and same day to DC. One of the pilots came back and asked if anyone knew how to fly? The autopilot was ferhunced and they didn't feel like flying manually as these were all day affairs. Gunny Faylor volunteered as he had some experience. We drew lots to see who the second guy would be and Joe Westner won. We knew when Joe took the helm because the bird made a fighter plane maneuver. He later related how the pilot had prepped him and told him to utilize the silhouette on the dash and then gave him a command to do three degrees or some such thing. 'This ain't a Buick, son,' or somesuch, and Joe learned quickly that a minor effort was all that was necessary. Semper Fi
Submitted by Dave Melchior, 8th & I, Ceremonial Guard Company, 2nd Platoon/Drill Team and Body Bearers Section, 1958-1960, San Diego, CA
11-25-16 .... JOE WESTNER'S 8TH & I MEMORIES OF THE LATE-1950'S
I remember very well the trip to Lima, Peru. We were warned by, I believe Gunny Ben Smith, that things could get dicey since Peru was very pro-communist. However, several of us went out and were told about a bar called "The Blackout" which was owned by a retired Marine. We went there and once you got in the place the only lights were small lamps on the bar. You could see a bunch of curtained booths with various male/female sounds and we got the feeling that this place could be trouble so we left there and worked our way to the bar Dave Melchior mentioned. It was called "El Gato Negro" ( the BlackCat). What started the problem, as I remember it, was the women in the bar who were sitting with us were ordering drinks which we saw the bartender pouring our drinks from the bar bottle and theirs from a different bottle. They were charging us full price as liquor. I remember Nugent getting into an argument and he cold-cocked the guy. We got out of the bar and as Dave Melchior said, after a few turns wound up in front of our hotel. When we went in and I remember seeing Gunny Ben Smith doing an inspection on some of the hotel staff.
On our way up from Santiago, Chile, I remember being picked to go to the cockpit and taking control of the plane. Needless to say, it took a little time to get used to the controls. Most likely scared the hell out of the Marines on board. We were flying below 10,000 feet since the plane was unpressurized. The scary part was that if you looked out the right window the Andes mountains were still 5,000 feet higher than we were. Finally, I thought the pilot looked a lot like Arthur Godfrey.
This was on great trip and if I can figure out how to do it, I will send a picture of the Drill Team that went on the trip.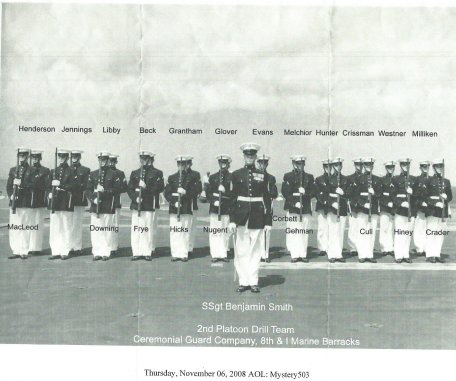 John: Here is the picture of the 2nd Plt./Drill Team, Ceremonial Guard Company, taken in 1958. This was the Platoon that took the trip aboard the CVA-61 Ranger in the summer of 58. The ship left Norfolk, VA with subsequent ports of call to Trinidad and Tobago, Rio, & Valparaiso, Chile. We left the ship there and went overland by a frightening bus ride to Santiago, Chile., and from there by air to Lima, Peru, Panama and back to Washington, DC. A truly memorable trip.... Take care and Semper Fi.
Submitted by Joe Westner, 8th & I, Ceremonial Guard Company, 2nd Plt./Drill Team and Body Bearers, 1958-1960, Derwood, MD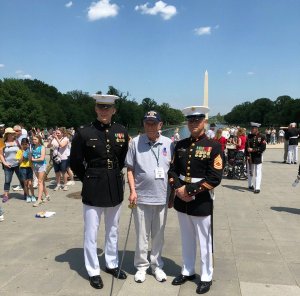 Honor Flights to Washington, DC This picture is of Ralph Sherman Sr (1955-57) who recently took an Honor Flight from Chicago to DC. While there, he enjoyed a performance by the Silent Drill Platoon at the Lincoln Memorial. Honor Flight Network is a non-profit organization created solely to honor America's veterans for all their sacrifices. They transport our heroes to Washington, D.C. to visit and reflect at their memorials. Top priority is given to the senior veterans - World War II survivors, along with those other veterans who may be terminally ill. To find out more about Honor Flights, visit there website:
www.honorflight.org
Submitted by Ralph Sherman, Sr., Barracks Detachment / Ceremonial Guard Company, 1955 - 1957 (served 10 years in the Corps), Korean War Veteran, Joliet, IL
4-26-19 ... MAJOR GLENN S. "MUSTANG" TAIT, 8TH & I, CEREMONIAL GUARD COMPANY, COLOR SERGEANT OF THE USMC, 1956-1960, RETIRED FROM THE CORPS IN 1975 AND DIED ON 26 JULY 2012; HIS AUTOBIOGRAPHY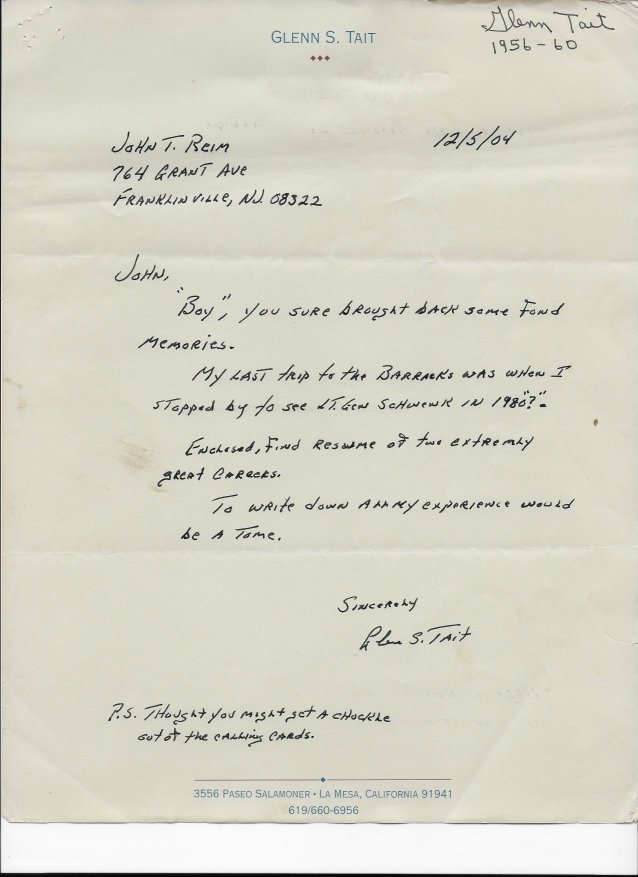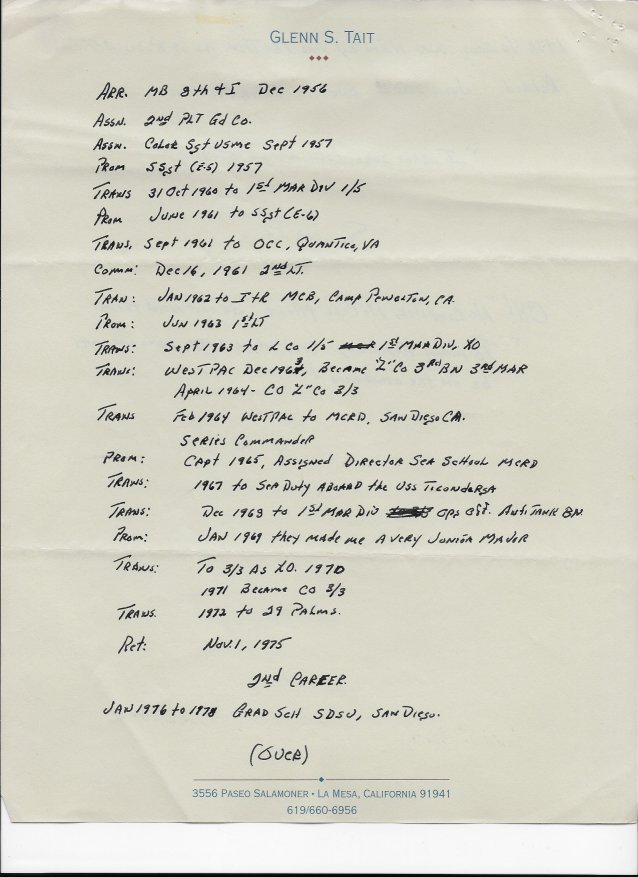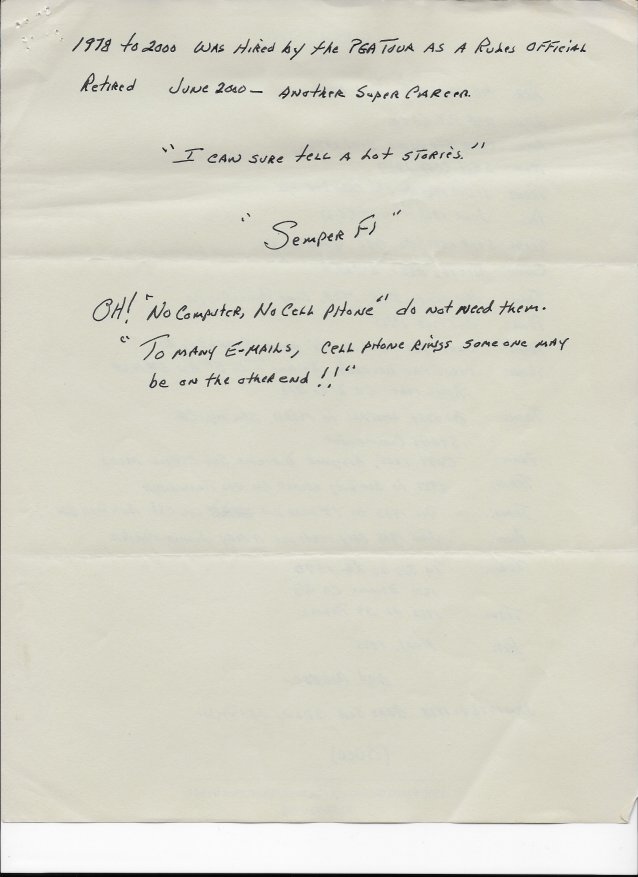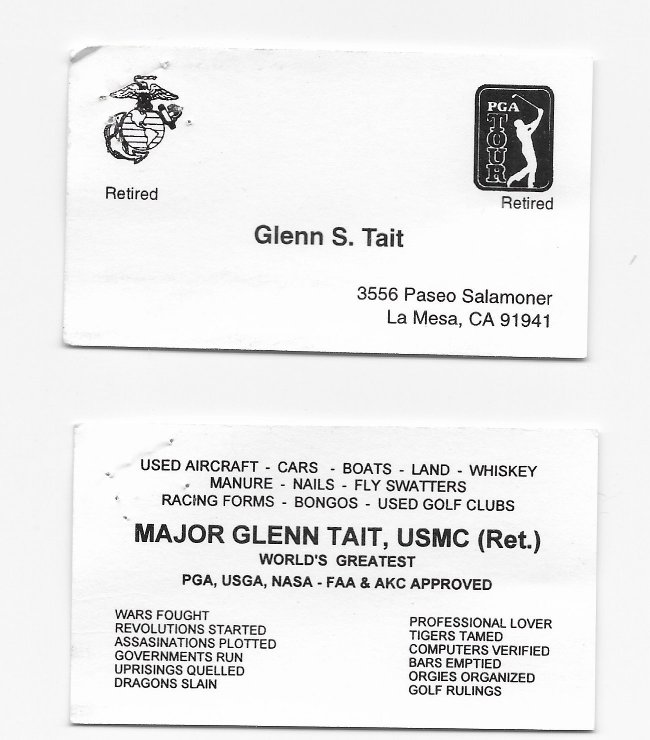 Submitted by John T. Reim, Ceremonial Guard Company, Silent Drill Platoon, 1958-1961, Franklinville, NJ
6-22-19 ... RON "MUSTANG" BURTON'S SKETCHES OF MILITARY LIFE TO BE PRESERVED BY THE CAMP PENDLETON MUSEUM
Click here to see
SKETCHES OF MILITARY LIFE
Submitted by 8th & I Marine Ron "Mustang" Burton, Barracks Detachment / Ceremonial Guard Company, 1955-1959 / USMC 1952-1974, Vietnam veteran, Oceanside, CA
6-23-19 ... DENNY "MUSTANG" HARRIS' LATE-1950'S MEMORIES OF SERGEANT RON "MUSTANG" BURTON, CEREMONIAL GUARD COMPANY
Interesting article about Ron Burton and his sketches In March 1957, I was promoted to Corporal and after the hand shakes and pats on the back,
I reported back to the Company office where I was serving as the Guard Company Clerk. On my desk was the following water color drawing by then
Sergeant Ron Burton......ame following the promotion ceremony....unbelievable! I received my Ph.D in Medical Microbiology from Indiana University
and taught in the College of Medicine at the University of Kentucky for 31 years. During this time I had literally hundreds of extremely bright students.
In many ways I think Ron could compare favorably with some of my brightest students. Ron is a terrific artist and also a gifted writer and could converse
with anyone about anything. Ron is truly a unusually gifted individual.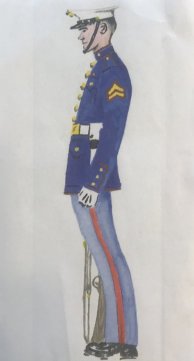 Submitted by 8th & I Marine Denny "Mustang" Harris, Ceremonial Guard Company, 1956-1958 / Col., U.S. Army Reserves (retired in 1997 / 30 years service), Lexington, KY
6-23-19 ... 2019 ... 8TH & I MARINE GAROLYN E. "GENE" CAGLE (CENTER OF PICTURE) AT MARINE CORPS LEAGUE DETACHMENT #592, BIRMINGHAM, AL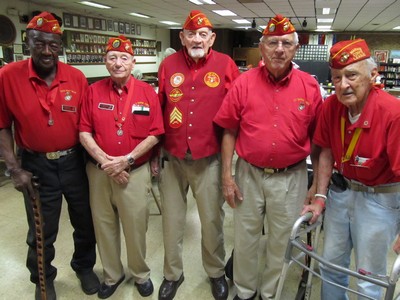 Submitted by 8th & I Marine Garolyn E. "Gene" Cagle, age 88, Barracks Detachment, 1954-1955, Vestavia, AL
8th & I Marine Dorothy Patson, MCI Company, 1958-1959, attended the Lakeland, NJ,
Marine Corps League Detachment's 2010 and 2012 USMC Birthday Balls.
To view her pictures,
click here.
11-18-17 ... Joe "Mustang" Larkin celebrates the USMC'S 242nd Birthday and his 87th Birthday in Paris, France
To view his photos,
Click here
Anyone having additional submissions for this page should send them to: webmaster @ 8thandI.com
Contact us at: cgccontact @ 8thandI.com, 8th&I Reunion Association
Return to top of page
©Copyright - All Rights Reserved - November 2017
8th & I Reunion Association



Design and Layout

by BT Productions